Paul Morgan is in our opinion one of the leading British still life painters of his generation.
Paul was born in Barking, Essex in 1940, the son of a talented amateur painter. After school he took a three year apprenticeship in mechanical engineering. However, art beckoned and he subsequently studied graphic design and entered the commercial side of the art world.
Then quite unexpectedly he left his job to concentrate on painting full time. This was financially unrewarding to start with but he then had a bit of luck, making contact with an art dealer who loved hispaintings and took enough of his works to fund his living and painting for the next four years.
The rest, as they say, is history. Over time Paul's reputation has spread and his high quality paintings are now in demand from dealers, galleries and private collectors worldwide.
Paul's work can now be found in places as diverse as Bermuda, the Middle East, Ceylon, West Africa and Canada although he remains best known in Western Europe particularly in Britain and Germany.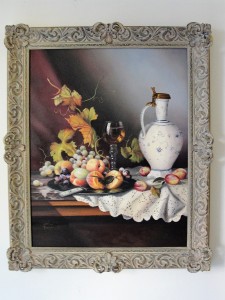 Still Life
Original Oil on Board. Signed bottom left hand.
Frame Size: 497mm x 598mm
Image Size: 385mm x 487mm
SOLD