(Born 1 Jan 1907 in North Walsham, Norfolk,  Died 1995 in Colchester, Essex)
We are delighted to be able to offer original works by the legendary East Anglian artist Bill Burton.
Bill was a prolific English marine and landscape artist, who painted in oils. He drew inspiration for his work largely from his rural Norfolk upbringing and his adopted home county of Essex. West Mersea was a particular favourite and Burton is best remembered for his depictions of golden oyster beds and Turneresque skies. His most renowned work is 'Evening Gold'.
Burton was self-taught but often acknowledged the guidance and inspiration of his first wife's father the Irish artist William Crampton Gore RHA (1871–1946). Burton spent a year in Australia (1964–1965) perfecting his technique before becoming a professional and commercially successful artist in the early sixties after retiring from the Civil Service.
Burton's style was detailed draughtsmanship with earthy colour.
Some of his original works were reproduced by the publishers Soloman and Whitehead, London between 1965 and 1970 as Fine Art Prints.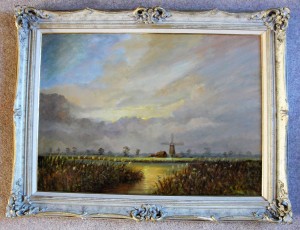 Golden Morn, Norfolk
Fantastic large work by this highly regarded artist. Oil on board. signed bottom r/h, signed and named in artist's hand verso
Frame size: 840mm x 647mm
Image size: 690mm 492mm
Price: SOLD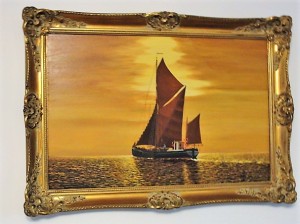 Thames Barge
Original oil on panel by Burton. Signed bottom r/h. Signed verso in artist's hand.
Frame size: 715mm x 515mm
Image size: 598mm x 394mm
Price: SOLD