Abraham Hulk Senior 1813-1897 (The Patriarch)
Abraham Hulk Senior was an Anglo-Dutch painter, draughtsman and lithographer. He initially trained as a portraitist, but became a well-known as a marine-painter and the patriarch of a whole family of Anglo-Dutch artists.
Hulk was born in London, the son of the merchant Hendrik Hulk and Mary Burroughs. He trained as a portrait painter under Jean Augustin Daiwaille (1786–1850) before continuing his artistic education at the Rijksacademie in Amsterdam.
During 1833 and 1834 he travelled to America, visiting New York and Boston, and exhibiting in the latter city. In 1834 he returned to Amsterdam, where he lived until 1855, when he relocated to Nijkerk, later moving to Enkhuizen, then to Haarlem, back to Amsterdam, then to Oosterbeek, before returning to Amsterdam once more. In 1870 he settled in England, where he spent the rest of his life. He became well-known because he seemed to have the ability to paint the sea and its ships in such a different way for which he became one of the great marine painters. Some of his portraits have survived. His work was exhibited in the Royal Academy in London from 1876 to 1890 where he entered three paintings of which two were Dutch seascapes. He also exhibited at the Suffolk Street Galleries in London and in Leeuwarden and The Hague in the Netherlands from 1843 to 1868.
Abraham Hulk Jnr (1851-1922)
Abraham Hulk Jnr was born in the Netherlands, the son of Abraham Hulk Snr. Hulk spent the majority of his life in England but made frequent trips back to the Netherlands and was well regarded in both countries.
While in England, he painted extensively in the region of Dorking, Surrey and Nottingham. He was best known for his Dutch and Southern England landscapes, in both watercolour and oil.
He flourished as an artist between 1876 and 1892, during which time he gained renown and participated in important exhibitions at the Royal Academy and the Royal Society of British Artists. During his lifetime, he showed twenty-four works at the Royal Academy, as well as exhibited fifteen times at the annual exhibition of the Royal Society of British Artists.
We are pleased to offer the following works by Abraham Hulk Junior: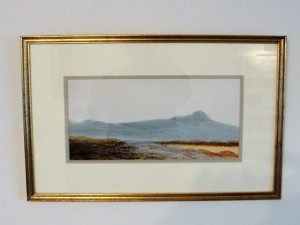 Dartmoor Scene 1
Original work in Gouache. Signed l/h bottom
Frame size: 530mm x 338mm
Image size:348mm x 163mm
Price: SOLD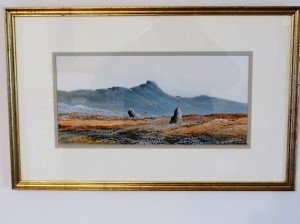 Dartmoor Scene 2
Original work in Gouache. Signed l/h bottom
Frame size: 530mm x 338mm
Image size:348mm x 163mm
Price: SOLD
 H.Dollond-Hulke (1885 – 1968)
H. Dollond- Hulke doesn't show up on the genealogy websites, but Henry Dollond Hulk – without the terminal 'e' – does. He was born in Brixton in 1885, the son of Abraham Hulk (Jr) and his wife Blanche.
Henry's family moved around quite a lot – they were in Willesden in 1891, Nottinghamshire in 1901 and Henley in 1911. Henry D Hulk is recorded under that name in the census of 1911, with his profession given as 'painter (artist)'. By the time of their deaths, Henry, his three brothers and an unmarried sister were all recorded as 'Hulke'. Perhaps the 'e' was added during the First World War in an attempt to give the name a less Germanic look? Henry D Hulke died in Dover , aged 83, in 1968.
Henry painted many fine works in his long and active career as an artist and we are very pleased to be able to offer these little crackers:
Waves beating on the Rocks
Original watercolour. Signed bottom l/h
Frame size: 382mm x 280mm
Image size: 314mm x 214mm
Price: £20.00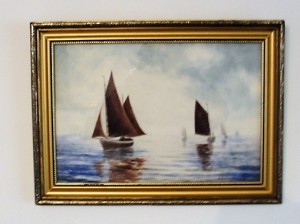 Sail boats
Original watercolour. Signed bottom l/h
Frame size: 382mm x 280mm
Image size: 314mm x 214mm
Price: £20.00