The majority of Kevin's paintings conveyed his love for the countryside of East Anglia's timeless landscape. Discovering hidden corners, derelict barns, old farm machinery and rain-filled ditches provided inspiration for his subject matter. His portrayal of early morning mists or a landscape bathed in the eerie light of a full moon won him critical acclaim.
A professional artist for over twenty years, he was recognised as one of East Anglia's finest traditional painters in oil. Those familiar with Kevin's work remain enchanted and deeply appreciative of his tremendous ability to portray a great passion for the English countryside. An acute awareness in the play and mystery of light on the landscape isreadily found in all of his paintings.
 Born in the Hartismere district of Suffolk in 1958, Kevin began painting at the age of 18 and about 1998 became a professional artist, working from Banyards Green, Laxfield, Woodbridge, Suffolk. He died on 18 January 2009, aged just 50.
Kevin's work is rarely available and his pictures typically change hands at £450-£650 when they do come to market. A rare chance for customers of Halstead Antiques Centre to acquire a quality painting at a bargain price.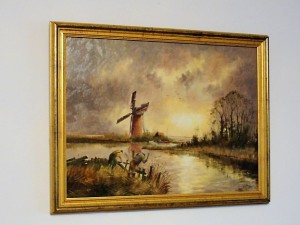 Workers on the Broads
Original Oil on Artist Board. Signed bottom right hand. Dated 1987. Work named on frame verso in artist's hand.
Frame Size: 565mm x 440mm
Image Size: 495mm x 370mm
£65.00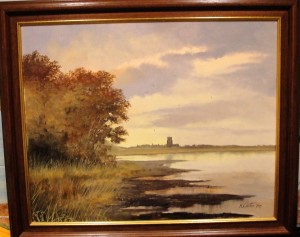 Evening, Blythburgh
Original oil on canvas. Signed bottom left hand. Dated 1994. Work named on frame verso in artists hand.
Frame size: 595mm x 495mm
Image Size: 499mm x 395mm
Price: £195.00